Supersteel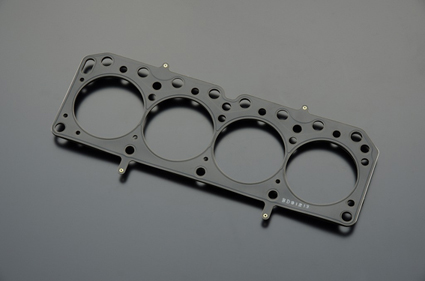 RACELINE Supersteel™ Competition Head Gasket
Motor vehicle technology is constantly moving forward on all fronts. One of the most impressive developments in recent years, in our view, has been the introduction of cylinder head gaskets constructed from two or more layers of very thin but extremely tough stainless steel. Originally developed in response to the world-wide ban on the continued use of asbestos, gaskets of this advanced new type are increasingly to be found in the most recently introduced production engines from the world's leading motor manufacturers, notably Ford and Volkswagen, among others.
Raceline Cars is proud to announce the latest addition to its ever-increasing product lineup. Exclusive to Raceline, the SuperSteel™ cylinder head gasket range uses the latest gasket technology, developed for competition use and race-proven by many of the world's leading SuperTouring and World Rally Championship teams and engine tuners, among others.
The gaskets consist of two, three or in some cases even four layers of very thin stainless steel, which are riveted together on the outer edge. In most cases the top and bottom layers are swaged in strategic areas (bores, oilways, and waterways) to enhance their sealing properties. The latest versions also have a nickel and chrome molybdenum (chromoly) plated stainless steel ring around the perimeter of each bore, folded to form a 'U' section and sandwiching one of the gasket layers, creating an extremely strong sealing ring of increased thickness around the cylinder bore known as the FireRing, allowing very high cylinder pressures to be contained. Clearly these hi-tech steel gaskets are much tougher than the old-tech copper-asbestos head gaskets used until now. Indeed they are so tough they may safely be re-used several times, although this is not recommended in the case of high boost/power turbo engines.
Therefore they are ideal for use in certain older high performance engines which traditionally give head gasket problems, but which nevertheless remain very popular in some classes of competition. For example, one leading engine builder specialising in the venerable BMC 'B'-series engine, which is known to respond well to high compression ratios but which commonly suffers from cylinder head gasket sealing problems, especially in large bore form, has established that the SuperSteel™ head gasket safely allows the use of compression ratios of up to 13.0:1 in that unit.
Presently SuperSteel™ gaskets are available for BMC A-series and B-series engines, and for the Ford 'classic' engine range: Crossflow, TwinCam and BDA/BDG. More models are being added to the range all the time, and other applications may be considered, depending on demand (contact Raceline for details). The latest addition to the range is a gasket for the popular Ford YB engine range, which features the latest FireRing technology, and is available exclusively from Cosworth specialists Mountune (01621 854029). Although inevitably more expensive than conventional 'lo-tech' copper/asbestos head gaskets, the additional cost is more than offset by the fact that the SuperSteel™ gaskets are re-usable up to three times (not recommended in the case of the YB unit). And, of course, by the greatly enhanced reliability on offer. Prices range from £85-225.
If you have experienced cylinder head gasket sealing problems with your classic competition or fast road engine, these Raceline SuperSteel™ head gaskets may just be the answer.